Atelier Brabus has unveiled the all-new Brabus 800. This time, it's the Mercedes-Maybach GLS 600 4MATIC which has undergone a deep makeover. The 800 in it's name depicts the 800 horses that it produces. Brabus 800 has 239.7 HP and 239.7 Nm of torque more than the Maybach GLS 600.
The new Brabus 800 is powered by the same 4-liter, twin-turbo V8 engine, which has been tuned with the Brabus PowerXtra B40S-800 for performance upgrade and as a result, Brabus 800 churns out 788 HP of power and 950 Nm of peak torque. The black supercar catapults itself from rest to 100 km/h in just 4.5 seconds. The top speed is electronically limited to 300 km/h.
Apart from performance, new Brabus 800 sports an aggressive look with the dark Shadow Grey colour, replacing the shiny chrome of the production car as a dominant feature. This includes all bodywork components and the Brabus Monoblock M "PLATINUM EDITION" hi-tech forged wheels in king-sized 24-inch diameter.
The exclusive design of the Brabus 800 is redefined by Barbus' signature exterior concept in combination with high-quality carbon elements. Around the extravagant chassis, stylish aerodynamic parts like the new BRABUS front fascia and rear diffusor insert reimagine the classic Maybach looks by introducing a sense of determined athleticism. These key elements furthermore reduce axle lift at high speeds, resulting in immaculate handling stability and the smoothest driving experience achievable. The Brabus suspension module can lower the luxury SUV by 25 mm, making the Brabus 800 as agile as it is stunning.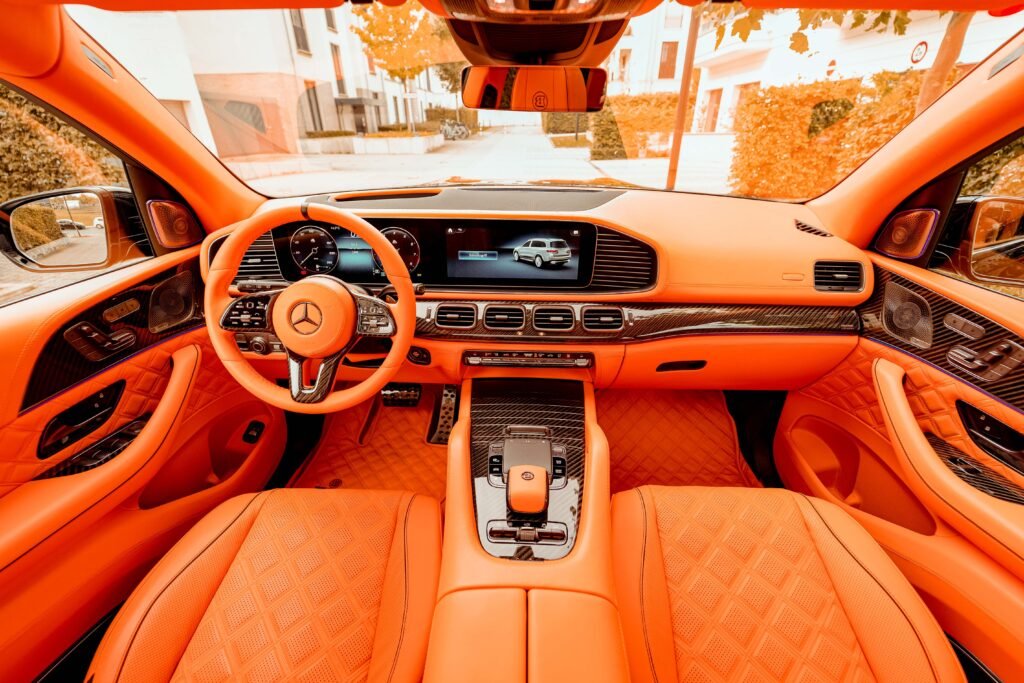 The bespoke fully handcrafted Brabus Masterpiece interior augments its lavish elegance as well as its uncompromising performance. Refined down the last detail, the striking Leonis-Orange leather design impresses with its immaculate finish, complete with special Brabus Dual Cube quilting applied through pinpoint precision around the cabin, including the seats, trim elements and the foot wells, which are likewise upholstered in the finest leather.
In the rear cabin, Brabus 800 features two first-class single seats with numerous comfort functions such as multi-contour adjustment, memory and integrated seat ventilation and heating offer exceptional on-board comfort in style. To further complement its sporty, elegant flair, this one-of-a-kind interior concept also features a range of exposed-carbon elements implemented around the dashboard and the door panels, aluminum pedals and door lock pins as well as stainless-steel scuff plates complete with backlit Brabus logo, which changes color in sync with the ambient lighting.
The all-new Brabus 800 can be customised as per the customer's choice and apart from this, Atlier Brabus will also upgrade any Mercedes-Maybach GLS 600 to this level all at once or in stages.