Union Minister of Road Transport and Highways Shri Nitin Gadkari launched the much-awaited Bharat New Car Assessment Programme (Bharat NCAP) today in New Delhi aiming to enhance road safety by elevating vehicle safety standards for up to 3.5-tonne vehicles in India.
Addressing the gathering he said this is a landmark step towards empowering our consumers for being able to make a better choice for buying safer cars.
Shri Gadkari said Bharat NCAP will also greatly push the safety and quality of the vehicles in India, while simultaneously promoting a healthy competition among OEMs to manufacture safer vehicles. He said the new safety regime under Bharat NCAP and AIS-197 is a mutual win-win for manufacturers and consumers and an instrumental step towards safeguarding lives of our citizens and making our Automobile Industry the number one auto manufacturing hub in the world.
He also announced that Bharat NCAP has already received over 30 requests for testing models and says he is happy to see the automotive industry's acceptance of the programme. The Program is applicable to type approved motor vehicles of M1 category less than 3.5T GVW. This is a voluntary program in which the base variants of a given model shall be tested.
This program will commence from 1st Oct 2023 and will be based on Automotive Industry Standard (AIS) 197. Program aims to create ecosystem of competitive safety enhancements leading to increased awareness among consumers. Consumers can take an informed decision by making a comparative assessment on vehicle performance under crash test conditions.
NCAP brings the opportunity to the OEMs to manufacture vehicles of global safety standards. Program will be anchored by Central Institute of Road Transport (CIRT) .This program has been evolved based on stakeholder consultations .
Bharat NCAP: Protocols and tests
On a broad level, Bharat NCAP is aligned with global testing protocols, and speaking at the event, Anurag Jain, secretary, Ministry of Road Transport and Highways, said that with this the Indian automotive industry will also be more export-oriented.
The programme will award a star rating between 1-5 for cars tested, with 1 being the lowest. The evaluation will cover three areas: Adult Occupant Protection (AOP), Child Occupant Protection (COP) and Fitment of Safety Assist Technologies.
Three tests will be conducted as below:
Frontal impact test
Side impact test 
Side pole impact test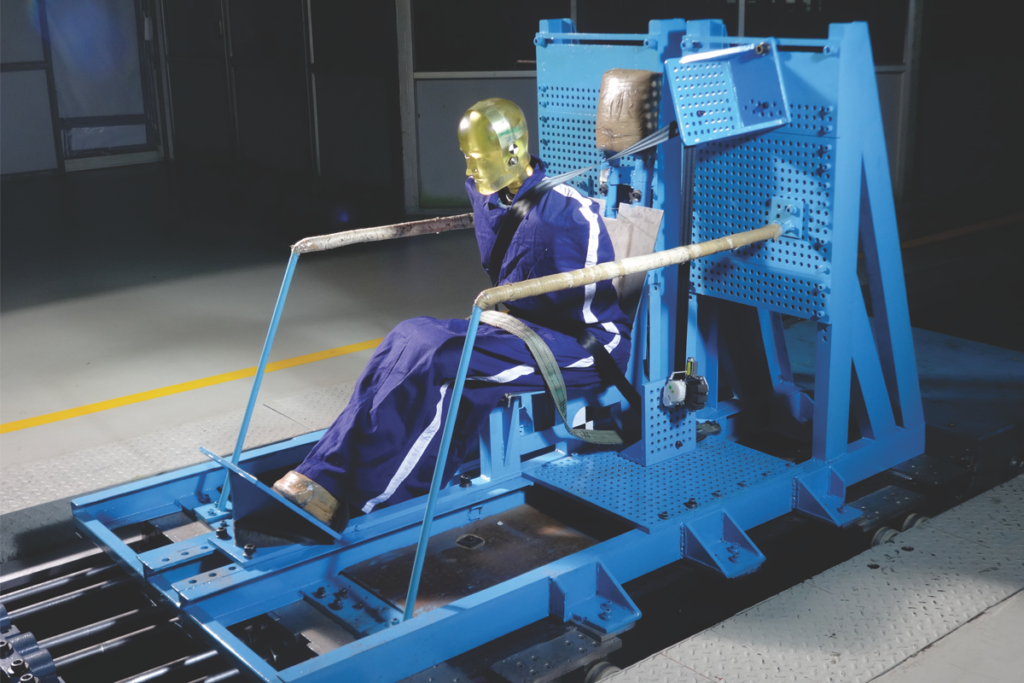 Based on the performance of the vehicle in the tests, the model will be awarded a separate star rating for adult occupants (AOP) and child occupants (COP).
The front impact test will be against an offset deformable barrier at a speed of 64 km/h, which is the same as the Global NCAP protocol. All vehicles also need to meet the pedestrian protection norms and the pole impact test will only be carried out for cars securing 3 stars and above at a speed of 29 km/h.
Additionally for any car to carry a 3 or higher star rating, it must also have electronic stability control and front seat belt reminders fitted. Seat belt reminders are a good addition to the protocol, however, given their low cost and ease of implementation, this should have been included for all seats.
Bharat NCAP: Star Ratings
| | | |
| --- | --- | --- |
| Rating | Adult occupant (AOP) | Child occupant (COP) |
| 5-star | 27 points | 41 points |
| 4-star | 22 points | 35 points |
| 3-star | 16 points | 27 points |
| 2-star | 10 points | 18 points |
| 1-star | 4 points | 9 points |
The maximum score for adult occupants (AOP) is 32 points and for child occupants (COP) is 49 points.
Bharat NCAP: Applicability
The Bharat NCAP crash test programme is based on the Automotive Industry Standard AIS 197. Vehicles falling under the M1 category that have been approved for carrying up to eight passengers, in addition to the driver; have a gross weight lower than 3.5 tonnes; and are either manufactured or imported into the country will be eligible for the Bharat NCAP crash tests. Apart from internal combustion-engined vehicles sold in India, the Bharat NCAP programme will also test and rate CNG and electric vehicles.
Bharat NCAP: Assessment Procedure
The car manufacturer nominates a vehicle model.
The Bharat NCAP team will visit the manufacturing facility of that particular vehicle and will select the base variant through random sampling.
The selected vehicle will then be dispatched to the Bharat NCAP testing centre by the manufacturer.
The selected vehicle will be crash tested and the process will be witnessed by representatives of the car manufacturer and the Bharat NCAP team.
Test results will be compiled and shared with the car manufacturer followed by the Bharat NCAP standing committee approval.
After the standing committee's approval, the star ratings and crash test results of that particular vehicle will be published by Bharat NCAP and the certificate will be issued by the Central Institute of Road Transport (CIRT).