Ashok Leyland has launched the new AVTR 2825 tipper with a 9-speed AMT. It is claimed to be India's first tipper equipped with a 9-speed automated manual transmission.
The new Ashok Leyland AVTR 2825 with 9 speed AMT can operate in different transmission modes (automated and manual). The acceleration-based gear shifting is said to improve fuel efficiency.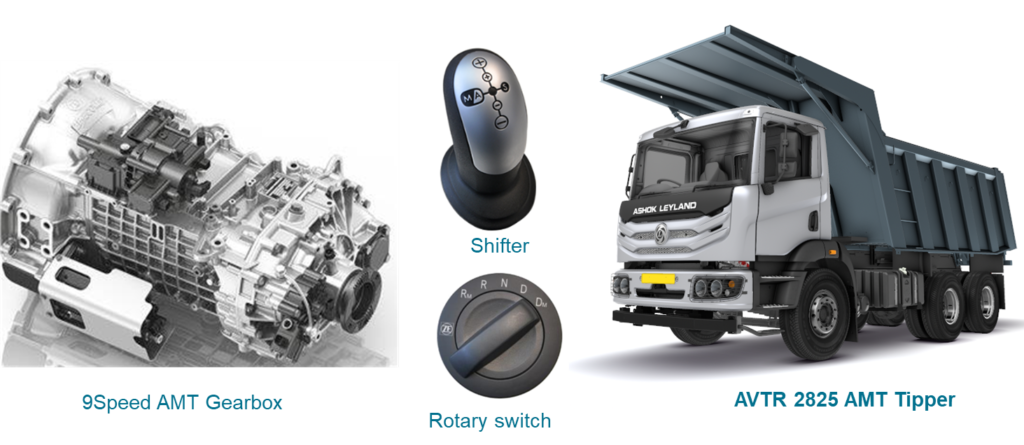 The AVTR 2825 AMT Tipper is powered by a H series BS6 engine with i-Gen 6 technology 200H, which produces 147 kW of power at 2400 rpm and 700 Nm of torque at 1200-1900 rpm.
Ashok Leyland AVTR 2825 AMT Tipper is equipped features like Automated Economy / Power Mode for improved Fuel efficiency, accelerator Pedal Based shifting for better acceleration and gradeability, variable upshift & down shift rpms based on gradient for smoother gear-shifting, AMT integration with hill start aid to avoid roll-back on gradients, forward & reverse maneuvering for assistance in Traffic and Parking, rock free mode to overcome wheel spinning when stuck in mud), in-built engine over-run protection, and auto neutral (enabled when engine is idle for 2 mins)