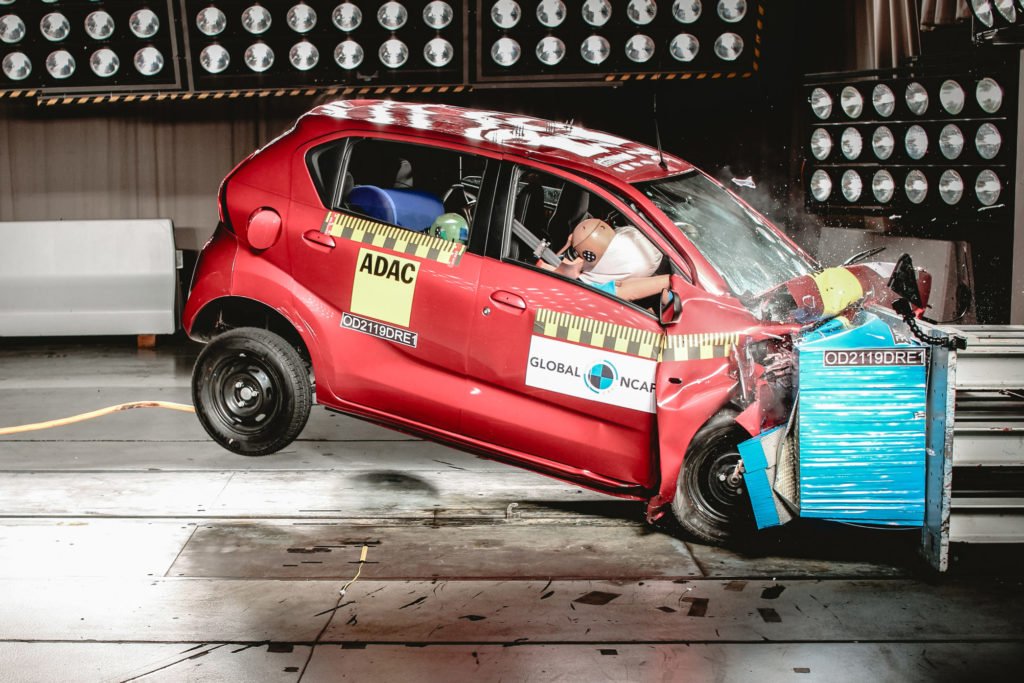 2019 Datsun Redi GO
₹ 2.8 Lakh
Discountinued
Last Recorded Price
Year of publication:
2019
Datsun Redi GO Safety Ratings
Our safety score is based on the Global NCAP crash test ratings.
Global NCAP Safety Ratings
ADULT OCCUPANT
The protection offered to the driver's head was adequate while the protection for the passenger's head was good. Both adult passenger's neck protection was good. Driver's chest showed poor protection which leaded to a limited one star rating. Passenger's chest protection was marginal. Driver's knees showed marginal protection and passenger's knees adequate and marginal protection as they could impact with dangerous structures behind the dashboard supported by the tranfascia tube. The bodyshell was rated as unstable and it was not capable of withstanding further loadings. Footwell area was rated as unstable. The car does not offer standard Seat Belt Reminder (SBR) when tested.
CHILD OCCUPANT
The child seat for the 3 year old was installed forward facing with the adult belt and was not able to prevent excessive forward movement during the impact while it offered poor protection to the head and fair protection to the chest. The 18 month old Child Restraint System (CRS) was installed with adult belt rearward facing. The head contacted the front seat and offered fair protection to the chest. The recommended CRSs showed incompatibility as the car has 3 points static seatbelts in the rear outboard seats. The vehicle does not offer ISOFIX and does not offer 3 point belts in all seating positions.
Datsun Redi GO Safety Features
Standard
Driver Airbag
Anti-lock Braking System
Child Safety Locks
Optional
Passenger Airbag
Daytime Running Lights