For Bernhard Langer, this year's Masters Tournament is a very special one. The Anhausen-born German, who is one of the so-called "Big Five" of the golfing world, played his first Masters Tournament in Augusta, Georgia, 40 years ago. Langer has won twice: first in 1985 and his second in 1993. To honour him and his decades-long career, Mercedes-Benz has created something unique – a very personal work of art. On a Mercedes-Benz G‑Class, tape art artist Leah Abucayan tells the story of the world-class golfer and his legendary career.
"This is how we honour two icons – Bernhard Langer and the Mercedes-Benz G-Class," says Bettina Fetzer, Head of Communications and Marketing at Mercedes-Benz AG. "Bernhard Langer and the G-Class have been shaping the spirit of the time for more than 40 years and are both emblematic of our campaign claim 'Stronger than Time'."
Bernhard Langer himself says: "I am delighted to receive this honour and am impressed by what has been created here. I have a lot in common with the G-Class. It already existed when I first competed here in 1982. Since then, we've both stayed true to ourselves, while at the same time always moving with the times and constantly evolving."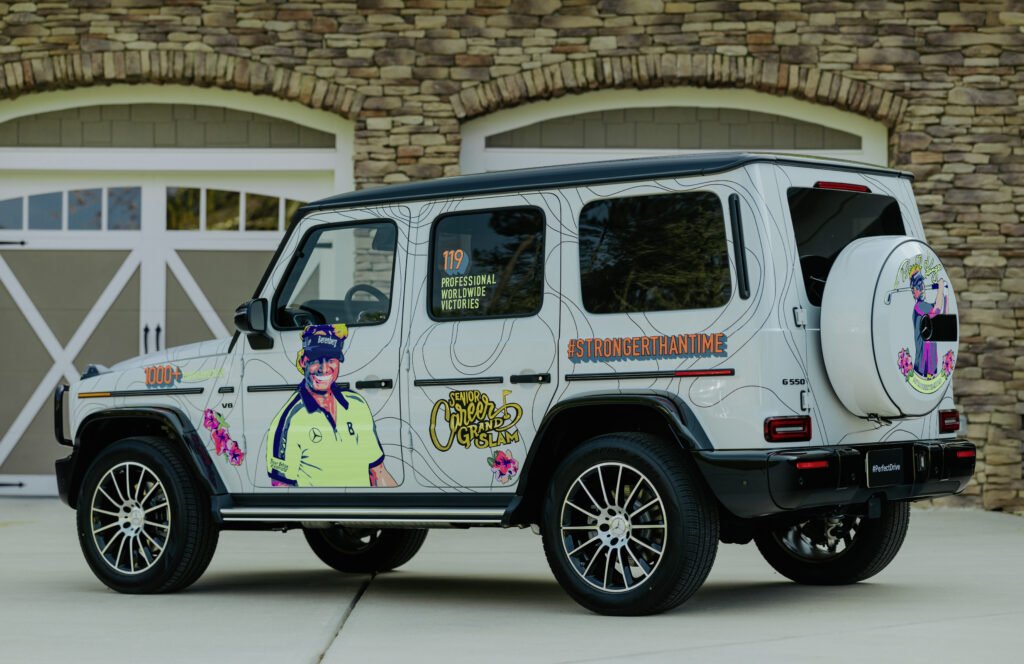 When the world's golfing elite tees off at Augusta National Golf Club in April, the new season of men's major tournaments will begin. Mercedes-Benz will be a partner in this exclusive environment for the 15th year. In addition to the German Bernhard Langer, the Spaniard Jon Rahm is also hoping to play a successful Tournament. The golfing world is particularly looking forward to Jon Rahm, who won a major last year. He will wear the star on his sleeve for the first time at the 2022 Masters as a global Mercedes-Benz brand ambassador. At the last four Masters Tournaments, the 27-year-old, currently number two in the world rankings, always finished inside the top 10.